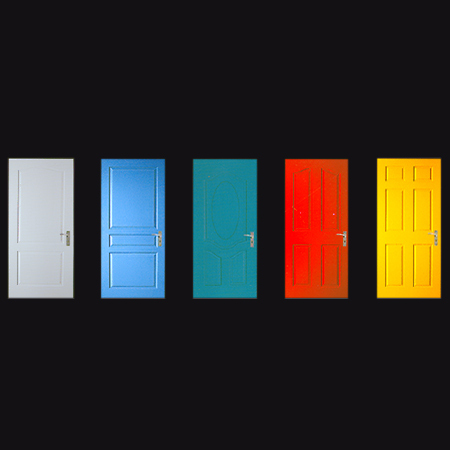 Decorative Primed Doors
Product Description
Decorative Primered Doors
Decorative Primered Doors is a range of moulded raised high density panel doors. HDF Skins are imported from Australia and adherence to Australian & New Zealand Standards: AUS/NZS 4266. They are resistant to shrinking, swelling, cracking and joint separation. 100% boiling-water proof bonding, Kiln seasoned stiles, rails and Engineered Wood Solid Core Fillers are treated with preservatives to improve their natural durability. From processing of Phenol Formaldehyde resin to BWP bonding of veneers and core, all are done under one roof-ensuring superb quality through the production line. Frame is 75mm wide and made of Southern Yellow Pine with 7 Years warranty against delamination and falling powder.

Instructions While Painting Decorative Primered Doors
Always opt for a high quality gloss or semi-gloss paint. This will offer better performance and easier application. It will also highlight the grain texture on the door
Select paint that's suitable for interior doors with properties such as low VOC, low odour, ease of cleaning and smoothness
Make sure that the surface is clean and dry
Paint the door edges properly and touch-prime any minor surface scratches
When the door is fully dry, apply two coats of paint, following the paint manufacturer's instructions for finishing.
Variants Available
Variant

Panel Type

Design Name

Height

Width

SKU

Permissible Sizing (Height x Width)

White Primered

Two Panel

Crescent: 2 Panel Raised Top White Primered

2150

940, 880, 780, 730

4

Maximum 2150mm x 940mm

Minimum 1925mm x 730mm

White Primered

Three Panel

Trinity: 3 Panel White Primered

2150

940, 880, 780, 730

4

Maximum 2150mm x 940mm

Minimum 1925mm x 730mm

White Primered

Three Panel Oval

Victorian: 3 Panel Raised Top White Primered Oval

2150

920, 820, 730

3

Maximum 2150mm x 920mm

Minimum 1925mm x 730mm

White Primered

Four Panel

Cascade: 4 Panel Raised Top White Primered

2150

940, 880, 780, 730

4

Maximum 2150mm x 940mm

Minimum 1925mm x 730mm

White Primered

Six Panel

Classic: 6 Panel White Primered

2150

940, 880, 780, 730

4

Maximum 2150mm x 940mm

Minimum 1925mm x 730mm

Teak Veneered

Two Panel

Teak Crescent: 2 Panel Raised Top Teak Veneered

2125

920, 1020

2

Maximum 2150mm x 1020mm

Minimum 1950mm x 760mm

Teak Veneered

Three Panel Oval

Victorian Teak: 3 Panel Raised Top Teak Veneered Oval

2125

920, 1020

2

Maximum 2150mm x 1020mm

Minimum 1950mm x 760mm

Teak Veneered

Four Panel

Teak Cascade: 4 Panel Raised Top Teak Veneered

2125

920, 1020

2

Maximum 2150mm x 1020mm

Minimum 1950mm x 760mm

Teak Veneered

Six Panel

Signature Teak: 6 Panel Teak Veneered

2125

920, 1020

2

Maximum 2150mm x 1020mm

Minimum 1950mm x 760mm

Walnut Veneered

Two Panel

Walnut Crescent: 2 Panel Raised Top Walnut Veneered

2125

920, 1020

2

Maximum 2150mm x 1020mm

Minimum 1950mm x 760mm

Wenge Veneered

Two Panel

Crescent Wenge: 2 Panel Raised Top wenge Veneered

2125

920, 1020

2

Maximum 2150mm x 1020mm

Minimum 1950mm x 760mm

Sapele Veneered

Two Panel

Crescent Sapele: 2 Panel Raised Top Sampele Veneered

2125

920, 1020

2

Maximum 2150mm x 1020mm

Minimum 1950mm x 750mm

Sapele Veneered

Two Panel







920, 1020

2

Maximum 2150mm x 1020mm

Minimum 1950mm x 760mm

Total













33